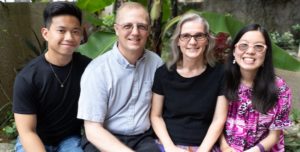 David, Rhonda, Shan and Joel Ackerman
Spiritual Pilgrimage
God has blessed us in so many ways: salvation, a wonderful family, and the opportunity to serve in various ministries around the world. God called us both into ministry as teenagers. We responded by preparing at Northwest Nazarene University where we met and fell in love. As God has directed our lives, we have adopted two beautiful children, served as pastors, missionaries, professor, nurse, chaplain, and other ministries. We have seen God's direction through the many challenges we have faced. Our family verse is Proverbs 3:5-6. We are learning to trust in the Lord in all we do. The new theme of our family is "abiding in Christ."
Pastor Dave became our pastor on August 4, 2019. Both Rhonda and David are ordained elders in the Church of the Nazarene. David's background includes pastoring four churches, interim pastor at two churches, college and seminary professor, hospice chaplain, educational administrator, plus fry cook, human shovel, car rebuilder, house builder, and handyman. He earned three degrees: Bachelor of Arts in Religion from Northwest Nazarene University, Master of Divinity from Nazarene Theological Seminary, and Doctor of Philosophy from Iliff School of Theology and the University of Denver. He has written several books, articles, and various curriculum. Besides being a pastor, David also helps coordinate educational endeavors on Philippines/Micronesia Field. Pastor Dave maintains his own website which includes a daily devotional blog: acky4.com.
Rhonda's background includes being a registered nurse. She has worked in various hospitals as a nurse, but her favorite ministry is working with people. She was the first graduate with a Compassionate Ministry degree at Northwest Nazarene University. She went on to earn her Bachelor in Science in Nursing from Rockhurst College and Research College of Nursing. She is presently using her nursing and ministry skills as the Member Care Coordinator for the Philippine/Micronesia Field.
David and Rhonda met at Northwest Nazarene University where their son, Joel, is presently studying. Shan's ministry is to connect with people. Everywhere she goes, she meets people and makes friends.
Our Ministry Vision
To see people find hope and full salvation in Jesus Christ
To be used in pastoral care, making the Word of God clear, and reaching people through holistic service
To train up the church to be effective in our world
To communicate the good news of Jesus in loving ways.
 Vision for the Church
Preach the Word
Pray for each person
Train up the Laity to be effective in ministry
Shepherd the flock through care and encouragement
Set an example in lifestyle
Have effective administration and structuring of all ministries of the church
The essentials of being church have not changed and are universal for all cultures. What changes are the images and methods we use to share the gospel to the people around us. The early church was characterized by study of God's Word, fellowship, compassion, and prayer (Acts 2:42). The church today must practice these essential elements. People are looking for meaning, and part of that involves developing relationships with others. One of the most effective ways to grow the church today is by genuine relationships of love. As the church, we function best when we are unified in our devotion to Christ and whole-heartedly devoted to helping one another get to heaven through godly living in this world. The Bible provides all the information we need. Thus, we need to focus on the Word and find new ways to help people be connected to the central message of the Word. At times, we will need to be creative in our methods because the world is changing. Following and adapting the best examples will help us be the church in our communities. We begin with study of the Scripture and then listen and allow the Holy Spirit to lead us as we connect with those around us.